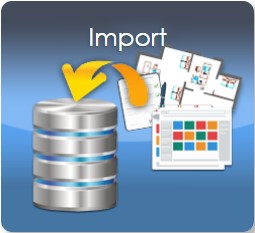 How is our alphanumerical and graphical data imported into speedikon® C?
This is one of the key questions asked by many of our prospects and customers.
We differentiate between alphanumerical and graphical imports. All imports are performed simply by any user (provided that the user is authorised to do so) via the systems interface.
The import of alphanumerical data is executed with the help of standardised import tools within the systems interface. For a trouble-free upload we provide all our customers with templates based on CSV-files (e.g. installation lists). These templates are compatible with our data base and hold all essential information required for the FM processes. Together with our customers we adapt these templates to meet any specific process needs.
In principle we can import dwg-, dxf-, dgn- and ifc- graphical files from CAD systems into speedikon® C. In the facility management sector graphical components are used for visualisation reasons (area analysis, move management, object location identification, etc.) and therefore must meet additional conditions such as closed polygons and room stamps.
These conditions ensure that the standard import is executable without any further need of customisation of the graphics and that all information from the CAD is brought into the CAFM/IWMS data base.
As graphics are regularly modified and adapted in CAD systems we have created a so-called re-import with an integrated comparison tool in speedikon® C. With the help of this tool the modified file can be compared with current data (object data and attributes) held within the system. At that, speedikon® C generates a list with every single modification of this graphic. The modifications within this list can simply be selected or unselected. At this point the user can decide which information should be uploaded into the system and at what point in time this should happen!
This way CAD plans are very easily and swiftly imported into speedikon® C. The re-import allows a direct comparison of modified data. This leads to a full control for our customers to decide what data has to be imported to which point in time.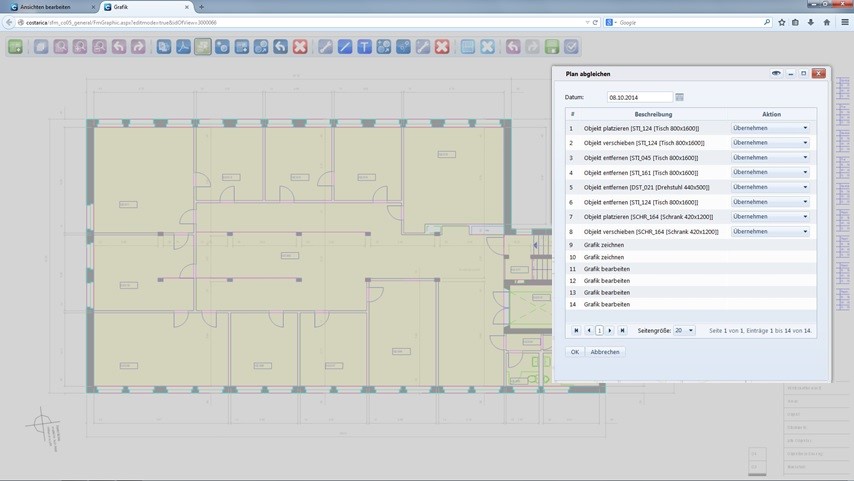 Graphical comparison list with the respective modifications