On April 11th, 2019, speedikon FM AG won the German Data Centre Award (Deutscher Rechenzentrumspreis). The renowned prize was awarded to the winners of the data centre industry during a ceremony at the future thinking congress. Patrick Burghardt, State Secretary of the Hessian Ministry of Digital Strategy and Development, is the patron of the award and congress in 2019 and opened the event.
Outstanding projects were awarded in five categories. speedikon FM AG competed in category number 4 (Innovations in the Whitespace) for which 15 different contestants had applied. speedikon had submitted the project "picture detection and AI algorithms facilitate ITIL processes" in the speedikon data centre infrastructure management system DAMS C and finished in third place.
DAMS C is one of the leading DCIM systems in Europe with over 100,000 square metres of managed data centre space. Racks, hardware and ports can be detected thanks to AI tools and machine learning functions. Moreover, the data centre itself can be represented as a digital twin. Notably, besides automatically producing work orders, instructions can be forwarded to AI and AR compatible devices in the DCIM system as well as visualised.
Hence, a completely new approach is used in order to push forward the digitalisation of data centres. The visualisation and instructions enable a new way of working and cause an improvement of quality of work, which is why this project is regarded as innovative. Hardware, ports etc. can be detected quicker, thanks to the support of key processes in the data centre, and due to the visualisation of instructions, significant financial resources as well as time can be saved.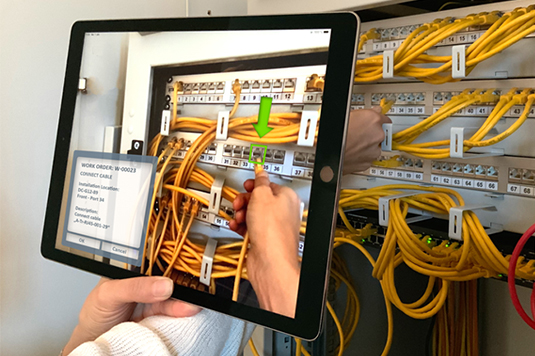 Do you have further questions regarding our DCIM solution? We are looking forward to hearing from you.