A ticketing system can be flooded with questions that are easy to answer as well as with problems that occur daily, and which are easy to solve. In order that you can settle these matters quickly, we developed the configuration package "Knowledge Base", a database in which users can search for entries that contain answers to their questions.
In our Knowledge Base, entries consist of titles, texts, and tags, which respectively describe a question, contain the apt answer, and consist of words that users are searching for and that are related to the subject of the question. If a user types a question into the knowledge database, the module analyses this inquiry- if necessary- in up to three steps. In the first step, all titles of the entries are searched through for the inserted question. If nothing can be found, the texts are checked and finally, in the third step, the tags. Moreover, it is possible to build various knowledge bases that differ for example in authorisation, in order that supervisors can make use of a different base than customer support, for instance.
A special feature of our Knowledge Base in speedikon® C  is the possibility to specify a competency. Hence, additionally to a concrete solution in the text block, you can offer the information of a responsible department or person. Due to the appointment of competency, communication paths are shortened, which leads to an efficient troubleshooting.
In order to urge staff to research the knowledge base first, it can be implemented in the most expedient spot, for example, at a help desk. If no appropriate answer can be found, the user will be referred to the ticketing system in order to place a ticket there. If a user then creates a new ticket that is solved successfully, the inquiry can directly be saved in the database as an entry. Therefore, Knowledge Base and ticket system can be connected effectively in order to guarantee a rapid problem solving.
Since we always work closely with our clients and initiate new developments in order to meet their individual requirements, Knowledge Base originated from a project with a client as well. This particular client wanted to drastically reduce the daily flood of tickets.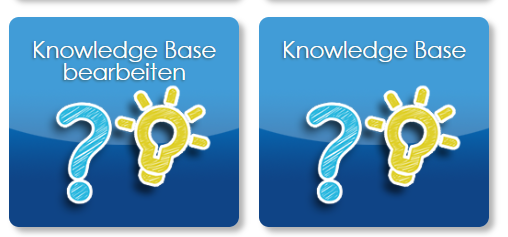 Would you like to know more about Knowledge Base? Please contact us!