In addition to the documentation of cables in current operations, DAMS C users also apply our software functions to schedule patching for new data centres or for comprehensive expansion planning. The objective hereby is to create a reliable basis for tenders and orders.
Extensive reports allow a full overview of all patch cables in a rack. This includes also the position of individual ports within the respective devices.
All information regarding height unit, slot, port number and cable length / name are documented seamlessly.
Furthermore, all cable types are documented in DAMS C, whether glass fibre, copper cables, single or multi fibre cables. Even complex and diverse connection and plug-in types are representable.
In addition to reports for patch cables the software also allows extensive evaluations of permanent cabling.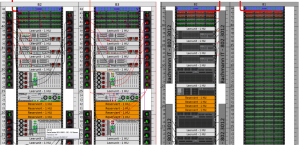 These and additional data can be exported to MS-Excel for further processing, if required.
A very useful additional effect is that these lists are usable as templates and guides for the actual physical cabling process. Thus, besides the module Work Order it creates a reliable basis for your task management!