We´ve all been in this situation: a new system is rolled out and the user has to adapt to the interface, the process handling and the data structure.
With speedikon® C we are following a different approach:
The customer is not forced to adapt to the system because the system adapts fully to the customers' (and, of course, the users') needs.
We have therefore created a configuration interface, which allows the user to customise close to anything within the systems' interface. Prerequisite is that the user has the authorisation to do so.
The emphasis is placed on configuration interface – complicated data base modifications or the consultation of expensive experts is a thing of the past!
Any desired object can be created and equipped with its specific attributes. Dialogues are completely customisable and can be adapted to create a unique process workflow (also the distinction between authorisations and mandatory fields is possible). For this the user neither requires programming nor system skills. The created objects are, of course, alphanumerically and graphically utilisable.
Mandatory fields can be implemented within any object dialogue. This way attributes are under certain conditions mandatory for designated users or roles. This is a vital aspect when it comes to creating process workflows that hold various statuses.
This cutting-edge flexibility allows almost no limits in terms of customisation within the systems interface. This is also reflected within the object and hierarchy structure. speedikon® C allows any order of objects – regardless whether the installation is located in a maintenance group folder or directly linked to a room or a level. This way not only architectonical structures are displayable but also further elements such as cost centres can be integrated into the hierarchy structures.
This brings up an important question: what happens when the system is updated?
Well, all customer specific configurations are kept within a protected area of the data base. This area is not touched when updating onto a new software version of speedikon® C. So, the customers' configurations are always combinable with the latest software features.
This flexibility is setting new standards within the CAFM/IWMS and asset management markets.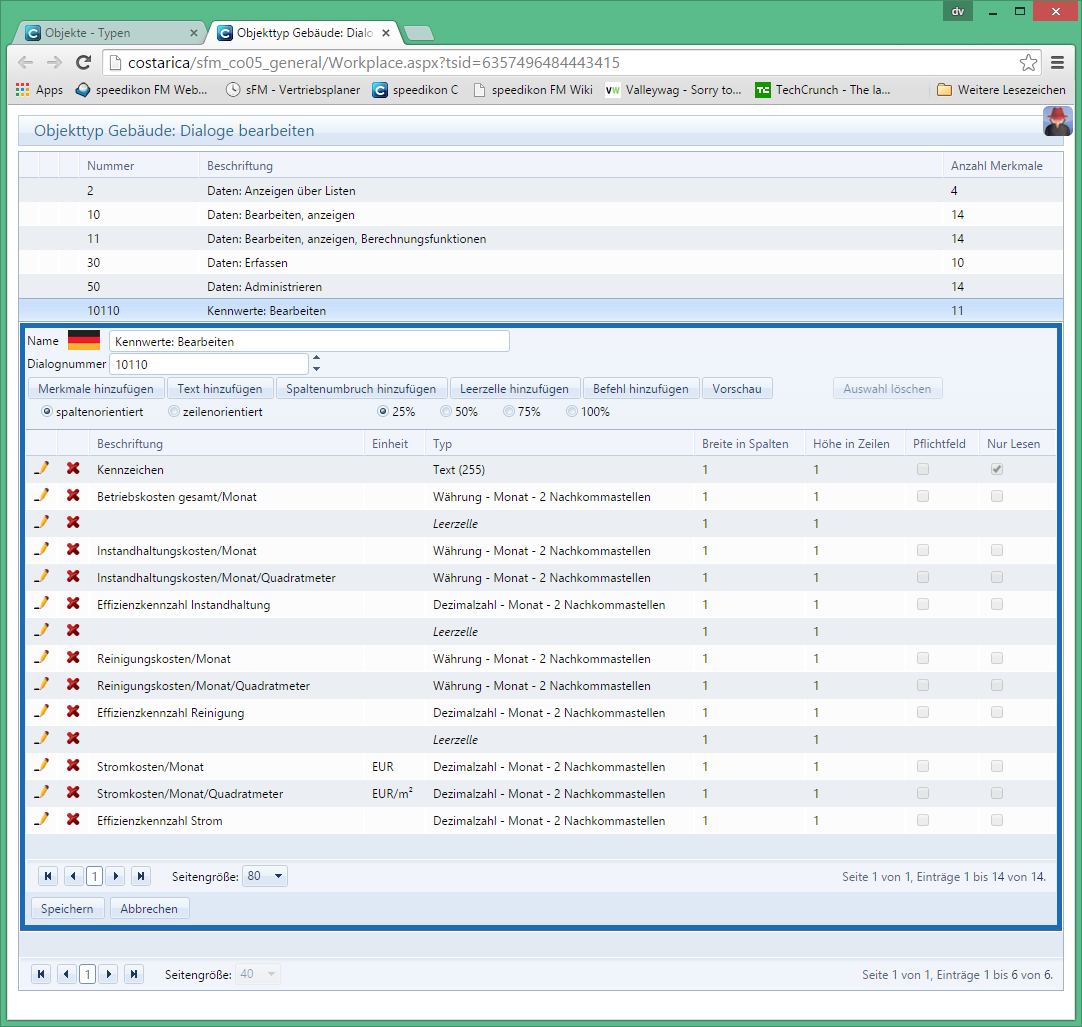 Configuration interface of a dialogue in speedikon® C