Our clients are mainly in touch with speedikon FM AG or WiriTec GmbH through individual employees. But who are the various other members of our team who are involved in our projects and keep the business running? In our new series "Charly's Colleagues" we are going to introduce to you our team members every few weeks.
Daniel Lehaire (29), IT consultant at speedikon FM AG, reports on current topics in the FM industry and talks about his personal experiences as a professional gamer in the past.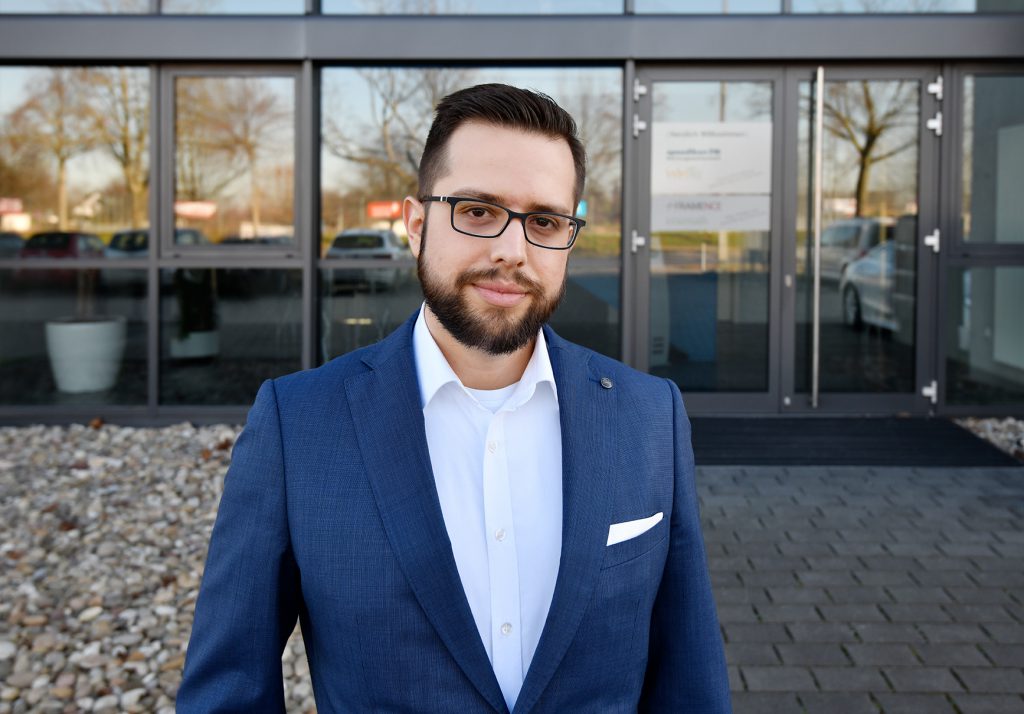 Daniel, as an IT consultant you are in direct contact with speedikon customers. What exactly do you like about your area of responsibility and what makes your work a bit difficult sometimes?
My tasks are a combination of customer meetings, implementation and the provision of solutions for the specifications that our customers have. It is exactly this combination that suits me very well. On one hand, I get to know a lot of people from different business areas and can also take a closer look at the internal processes of many well-known companies. On the other hand, with my IT background I also enjoy implementing the expectations and requests of the customers.
One topic that sometimes still causes me some difficulties is to find the balance, to meet the expectations of our customers, but at the same time to understand that it is vital to always keep an eye on the technical feasibility. Via the direct contact with customers and their projects, you are also very interested in getting the most benefit out of the respective possibilities.
Which topics do you think are particularly important in the FM environment, and which trends do you notice?
reports, reports, and reports all over again…they naturally play a huge part in the FM environment, not only to control the respective workflows, but also to be able to optimize processes. I see the trend that even in comparison over the last few years more and more data is collected, incorporated and subsequently evaluated. For this data collection, many customers nowadays attach significant importance to mobile apps. Accordingly, in the FM world we naturally have a greater focus on providing apps that we use in conjunction with our really intuitive desktop interface.
You have an exciting past as a gamer. Can you tell us something about it? Was it important to your decision to work in an IT company?
Before I started working at speedikon FM AG, I was not only involved in the gaming world as a hobby, but also on a professional level. I played in the massive multiplayer online game "World of Warcraft" for years for the most successful international organization. In short, you can imagine it as follows: At the game's heyday, about 10 million people played and we were among the top 30 players in the world. This opens many opportunities such as prize money, sponsorship agreements, services such as coaching other players, but also services for the "Blizzard Activision" company itself that developed the game. For the game's creators, we have performed live on stage at various events around the world, including GamesCom in Germany and BlizzCon in the U.S., to demonstrate the most difficult parts of the game.
This experience has influenced my career choice. I had already gained a lot of experience in the field of IT services as a result, and I'm also used to direct contact with customers. I can profit a lot from from these experiences in my current working environment.
speedikon FM AG is headquartered in Bensheim. What is your connection to the region and what do you like about it?
I was born in Bensheim and have spent most of my life here. I must say that I could not imagine it any other way. Through my gaming career, but also on a private level, I have travelled the world a lot and have been able to take a closer look at many cities – but it has always brought me back here. The Bergstrasse is simply a very beautiful region with our vineyards, the many hiking trails and the Odenwald mouintains right next door. I really like it here, to be able to enjoy a quiet life in a small town. If I have the desire for a big city every now and then, Frankfurt or Heidelberg are only half an hour away.