Our clients are mainly in touch with speedikon FM AG or WiriTec GmbH through individual employees, but who are the various other members of our team who are involved in our projects and keep the business running? In our series "Charly's Colleagues", you'll have the chance to meet our other team members every few weeks.
Marcel Richter (30), sales representative at speedikon, on topics that are important right now for the FM industry and an unusual invitation to tender.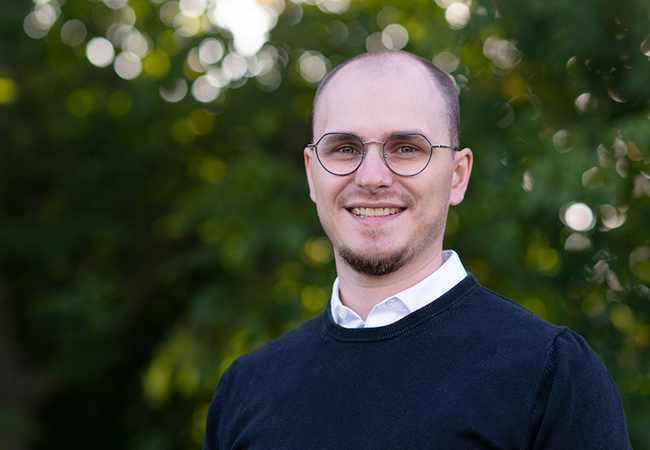 Marcel, as a sales representative you are in direct contact with speedikon clients and are responsible for carrying out our projects. What do you like about your job and what can make your work more difficult at times?
I can actually answer this question very clearly. The most exciting and beautiful thing about my job is the variety and the challenge of dealing with new requests every day.
For one thing, every client is different in terms of personality, so you get to know many different people who have the most varied thoughts and ideas. It definitely doesn't get boring, and you have to learn how to adapt and deal with all these different personalities and perspectives.
On the other hand, every project is also different. So not only the people, but also our solutions that we provide to the client are different every time. For example, the same process A is implemented differently for client 1 than it is for client 2. For me, this means that I have to be able to understand the processes of our clients from a wide variety of angles in order to be able to offer the right approach.
So, communication is key in my line of work, because by communication effectively you can avoid misunderstandings and really understand what it is your clients are looking for.
In your opinion, what topics are particularly important in the FM environment right now, and what trends can you observe?
There are actually many topics and trends that could be listed here, which an incredible number of people are dealing with every day. But if I look at what the terms or requirements of our clients or potential clients are, the following three topics come into mind:
Use of mobile applications
Use of CAFM software as a SaaS solution
Sustainability in FM (ESG criteria)
These three topics are increasingly being requested and are also receiving more and more priority in procurement.
Of course, other topics also play a role that can help to support the topics mentioned above. I'm thinking especially of IoT, AI, etc.
In addition to all the trends, however, I have noticed for years that there are still an incredible number of companies – especially large companies – that do not yet have any CAFM software in use and still handle a lot with Excel and the like. This is where we come in and have to create a basis to build on for CAFM software.
As a sales representative who travels a lot, there's bound to be one or two interesting stories to tell. Do you have one in store?
One experience that really stuck in my mind was a price negotiation for an invitation to tender. Normally, you sit around a table with the purchasing department, discuss the offer and negotiate possible discounts, but also technical changes. Often, however, an offer adjustment results from the discussions with the interested parties, as one understands the needs even better and can thus estimate and calculate the actual effort it takes to implement the solution much better.
In this case, however, it was almost like a bazaar. The final three vendors were all invited to negotiate prices at the same time, all in different rooms, and then the prospect went from room to room.
The prospect explained to us how our offer related to the current best offer, told us the respective numbers, and then moved on to the next room.
In the meantime, my colleagues and I had time to think about what we wanted to do and what we could do pricewise. So, after the prospect came back to us, we could make a new, lower offer or quote our final price and consequently go home. The whole procedure then took almost six hours, over half the time of which we spent waiting.
An interesting and also somewhat strange experience, but from my point of view it was not very effective.
speedikon is based in the Bergstrasse region. Have you already had the opportunity to explore Bensheim and if so, what did you particularly like about it?
Unfortunately, I have not yet managed to explore Bensheim – with the exception of a few restaurants. But that is definitely still on my to-do list. In general, I know the area down here quite well, since I was on the road a lot in and around Heidelberg for my previous jobs.
I really like nature here: lots of green, lots of vineyards and lots of opportunities for hiking and excursions. So, it definitely doesn't get boring here after work.