In the second part of our mini-series on how to increase your company's energy efficiency, we dive into where the data needed to increase energy efficiency actually comes from.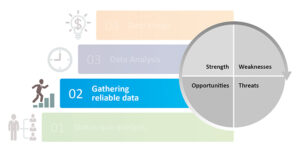 When implementing energy management processes, our clients always ask where all the data comes from and how it can be collected. From many projects we know that each clients' infrastructure is different and that different methods are needed to get the data. Over the past few years, we have therefore developed a wide range of methods to ensure that all existing data can be collected without gaps and that existing third-party systems can be integrated without any problems.
Our consultants work closely with our clients, in order to identify the optimal ways to collect data. In personal discussions, the technical framework conditions are clarified, and individual needs are explained. The results of these discussions then form the basis for implementing customized solutions.
Our clients' portfolios often include numerous buildings and facilities that have been constructed and equipped over many years. In these cases, there is often no homogeneous meter structure, as devices from a wide variety of manufacturers were installed because of these continuous portfolio expansions and building renovations. Furthermore, there are often already collection systems that can provide data. The goal is always to continue using all existing devices and systems in order to keep new investments in hardware as low as possible. For this reason, our consultants examine which data collection or transmission methods should ideally be used.
Thanks to our extensive know-how, built up over many years in numerous projects, our WiriTec software is able to communicate with many different communication protocols, such as Modbus, OPC or BACnet, among others. Innovative, new approaches, such as LoRaWAN, can also be easily integrated into our software – data can thus be collected easily, quickly and cost-effectively, even in distributed buildings and facilities. In addition, existing collection systems, such as BMS, process control systems or other databases, are integrated through IT interfaces. Data from energy providers is also integrated into the WiriTec software either by e-mail or via a file import. In addition, analog meters can be recorded manually on a regular basis using an app or, if necessary, integrated via LoRaWAN attachments. This completely vendor-neutral approach allows our clients to easily collect all existing data and avoid new hardware purchases. Since the quality of the data is crucial for the proper function of processes and reliable evaluations, all incoming data is checked for plausibility in terms of both form and content. Find out how exactly we do this in the next blog post of our mini-series.
For more information on how we can support you in obtaining data or increasing your company's energy efficiency, send us an email at info@wiritec.com or call us at +49 6251 58350.