Last week, we had the pleasure of welcoming some of our clients to our offices in Bensheim as part of our regular, free UserGroups. Within these meetings, we give our clients the opportunity to discuss current technical topics with colleagues from other companies and also with us as a software developer in a protected and confidential environment.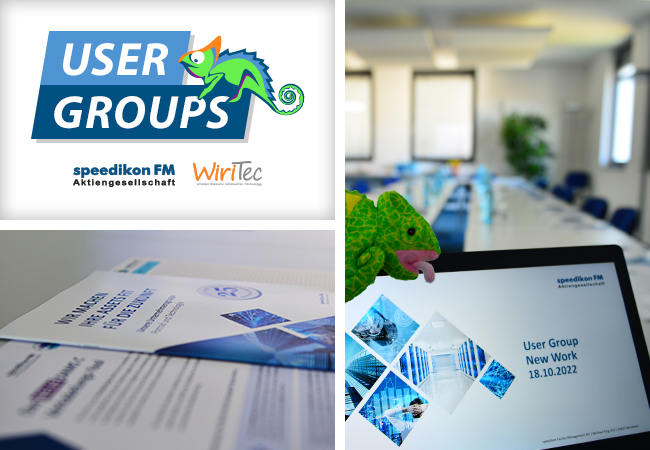 At the beginning of the week, we discussed New Work and what this means for the working world of tomorrow. On Thursday and Friday, the DAMS C UserGroup met to discuss current topics related to data center operations.
The discussions in the New Work UserGroup showed that the new working world is currently still very volatile and is influenced by many different factors. Issues that our clients addressed included office space requirements, opportunities toward savings, co-determination issues, employee requests, legal issues, building optimization, building redensification due to cost, downsizing underutilized buildings, and finally, most recently, saving energy.
During the conversations, participants described how they deal with these issues and manage problems. Topics such as security, workspace booking, and analysis to determine demand were also part of these discussions.
Our UserGroup showed that the topic of New Work is still evolving and will remain highly relevant in the coming years.
The UserGroup for DAMS C was also well received by our clients, with 13 participants on-site and around 20 joining via dial-in conferencing. Over the course of two days, the participants exchanged views on various issues. The topic of saving resources and sustainability in view of the energy crisis certainly plays a major role in the operation of data centers. The participants discussed how they can operate their data centers more sustainably and reduce the high energy requirements while maintaining the same quality and how DAMS C can contribute to that.
Furthermore, cabling is an ever-present topic in the data center – therefore, we were particularly pleased to receive positive feedback, requests for offers, and suggestions on our new intuitive cabling tool. We are happy to include this feedback in our software development roadmap.
We hope our participants were able to gain valuable insights from the UserGroups and thank them for the lively exchange and interesting discussions. We look forward to welcoming you again soon at the next UserGroup in Bensheim.
In November, UserGroups will be held on the topics of BIM and Digital Maintenance. If you would like to participate, you can register for free via our contact form or by phone at +49 (0) 6251 584 0.