Our clients are mainly in touch with speedikon FM AG or WiriTec GmbH through single employees, but who are the various other members of our team who are involved in our projects and keep the business running? In our new series "Charly's Colleagues" we are going to introduce to you our team members every few weeks.
Thanks to Markus Heuck (37) and his FUTURE.LAB, speedikon and WiriTec always work with the latest technologies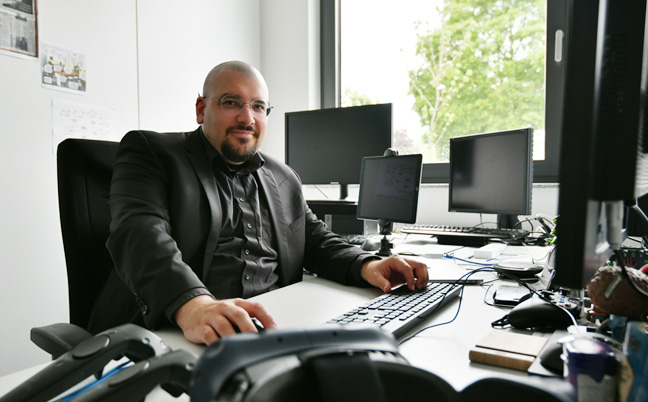 Mr. Heuck, you are in charge of the FUTURE.LAB, the research laboratory of speedikon and WiriTec. What exactly do you and your colleagues do in the lab?
We examine new technologies and test them. We deal with the current state of the art, with new devices and see what they are capable of. We investigate their limits and, above all, how they can be used in the industries. In the second step, we consider what prototypes and applications could be implemented. Some prototypes are tested right in the company, others are used as a basis for developing new ideas or workflow improvements.
What do you like about your job?
I have always enjoyed taking a closer look at new technologies, new frameworks or new approaches and experimenting with them. Already two years before my high school graduation, I started working as a freelancer which gave me the opportunity to do that professionally. I am very grateful that I am able to do what I have been enjoying for such a long time. I also find it very exciting to be in contact with so many different people and to exchange ideas about technology. In other words, I don't just sit in front of the computer and program prototypes, but I also spend a lot of time at congresses, events and with clients, or I sometimes give tours of the FUTURE.LAB, such as on 23 July and 20 August.
What are current topics and trends in your field of work?
Two years ago, I focused on virtual reality. This technology has now gained a ground primarily in training scenarios and we have also implemented training variants for it. Ultimately, however, the relationship to the machine or robot arms in the real world, the real view of them and the location of the equipment, was of crucial importance and so there were more and more projects for augmented reality. Hence, projects that require devices such as mixed reality glasses, smartphones or tablets, —as our current project "Maintenance AR"— have become a trend. Currently there are also many developments in the area of LoRaWAN and the connection or evaluation via augmented reality.
When you try out the latest technologies on the market you certainly experience surprises. When was the last time you were amazed by new technologies?
After we received a new VR headset in our lab, I introduced it to a colleague, and you could clearly see that he was completely immersed. He approached an element in the virtual world, so he took a step towards me and pointed at it with a very fast movement of his arm. I could barely escape and saw the hand with the controller scurrying by where my head was a moment ago. That would certainly have been a knockout. This shows what an incredible effect these virtual worlds can have, and it always reminds me that you must follow the security guidelines when you do demos for guests.
The speedikon company is located in the Bergstrasse region . How do you relate to Bensheim and the region and what do you like about this place?
I grew up in Eberstadt and studied in Darmstadt and Heidelberg. Hence, I have always had a connection to this place. In comparison to other regions, which certainly have their charm, I like the proximity to nature, the landscape with mountains where I can hike or cruise with my e-bike as well as the many airfields that are perfect for gliding.
The FUTURE.LAB is once again organising its popular tours on 23 July and 20 August. Register for free and get to know Markus Heuck as well as the latest prototypes.