Our clients are mainly in touch with speedikon FM AG or WiriTec GmbH through single employees. But who are the various other members of our team who are involved in our projects and keep the business running? In our new series "Charly's Colleagues" we are going to introduce to you our team members every few weeks.
 Nadine Hechler (28), gives interesting insights from the perspective of a graphic designer and explains which design in her opinion is most suitable for the FM industry.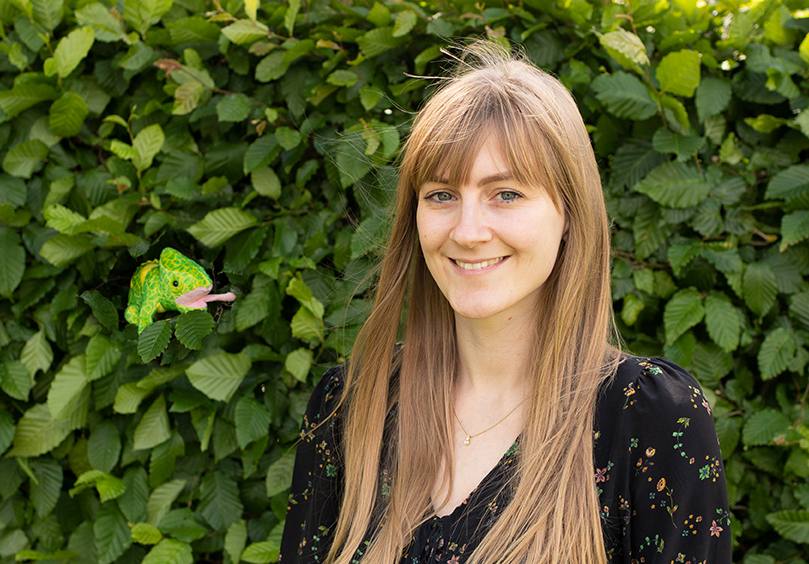 Nadine, what exactly do you like about your job and what can make your work sometimes a bit difficult?
I love to be creative, to develop ideas and then implement them. For me, "being creative" means developing both – my ideas and those of others in a dynamic team. My core competencies include the creation and design of digital and printed media. My current focus is mainly on the design and update of the company's website. Even as a child I always drew and put my fantasy on paper, and that is why I chose this profession.
Facility Management was a little difficult for me at the beginning, because I used to work in an advertising agency and this area was completely new to me. But thanks to the support of my colleagues, I was able to become familiar with all the topics quickly and now find it easy to get along with. However, the topic is still exciting because it is a complex, constantly developing area and offers the opportunity to discover something new every day.
As a communication designer, you have probably already got many suggestions for ideas. Is there a curious story you can tell us?
There are some curious stories as a designer, but the most curious thing is that once you get a job in this field, you see the world with completely different eyes. This has a lasting effect, because in almost any everyday situation you see things differently from your surroundings. You can't calmly walk past an advertising poster without stopping for a moment and analyzing the design. This is often very curious for others. My preference for haptics and design is often hard to hide. It can happen that I hold a business card in my hand and enjoy the detailed refinement. Someone who does not come from this professional field is then surprised about my excitement.
From a design point of view: what current trends do you see? Do they have an impact on the FM environment?
Design trends come and go. You don't have to follow them all, because they are always changing. I think it's much more important to ask yourself how you want to present your company, a product or a function – what message should be communicated to the outside world? Then you can decide on a suitable design. Especially in the digital age, where everything has to happen faster and faster, I recommend minimalistic designs that the user is not overloaded with too much information.
For the FM environment, it is relevant that all information is available everywhere and anytime, on different devices. Information needs to be easy to handle that the content can be communicated quickly. Therefore, a simple design fits very well, so that the design does not distract people from the core of the content.
speedikon FM AG is headquartered in Bensheim. What is your connection to the region and what do you like about it?
Since I was born and grew up in Bensheim, this region is my home. But it is much more than that: Bensheim is on one hand geographically favorably located between Frankfurt and Heidelberg, on the other hand there is the possibility to be quickly in nature, which is especially idyllic and picturesque in this region. From the countryside to big cities, it takes only a few minutes. With a seducing climate and cultural events, it's an ideal place to live and work.