Key management consists of lock and key management and controlling the access authorizations for the premises of a building or facility – it is thus a facility management service. It includes verifying and issuing locking authorizations, including arranging for cylinder installation and replacement for all locking systems in the building or facility. In addition, key management takes care of all initial as well as replacement purchases of keys and locking cylinders – it is therefore not only a challenging task but also one that carries a great deal of responsibility.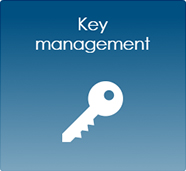 For companies that own hundreds of buildings and consequently have to manage thousands of keys, key management poses a particular challenge. In order to manage the large number of keys, arduous, complicated and decentralized means are often used, which are not only highly time-consuming and cost-intensive, but also prone to errors.
For example, one of our clients, who is well-known in the telecommunications industry, carried out the key management of their several thousand buildings manually and with decentral lists for years. Each site had its own lists which were maintained manually by the person responsible for the key management – if the person responsible was out sick or on vacation, the lists were not updated either. As a result, many lists that were not up to date made communication within as well as between different sites difficult, keys were lost or were assigned to the wrong people. All of this led to significant additional costs in terms of time and money, not to mention the risks involved.
Thanks to the implementation of our key management, all of this is now a thing of the past. Our client's key management is now done on our browser-based software speedikon® C that each site has access to in real time. This means that the key management staff of each individual site can access and view its own current data and, if needed, the data of the other sites. If a data record is updated, it is automatically updated for all users. The key management is now handled by one single software, which makes using countless out-of-date lists obsolete – saving time and money.
Since the introduction of our software, our client no longer has to wonder which employee has access to which building or room, or who owns which keys because all of this can be effortlessly viewed with the speedikon® C key management feature.
In addition, the issuing and returning of keys can be documented via speedikon® C. Helpful reminders can also be set if, for example, it is known that an employee should only have access to a building or room for a certain period of time. With speedikon® C, no key will be lost ever again.
Are you also drowning in a flood of keys? Then send us an e-mail at information@speedikonfm.com or call us at +49 6251 / 584 – 0 – we will work with you to develop a custom-fit solution for your key problem and help you with its implementation!