Our clients are mainly in touch with speedikon FM AG or WiriTec GmbH through individual employees, but who are the various other members of our team who are involved in our projects and keep the business running? In our series "Charly's Colleagues", you'll have the chance to meet our other team members every few weeks.
Alexandra Kiourtsi (27), Translator and Technical Writer, tells us about her work at speedikon and how she found her way to us.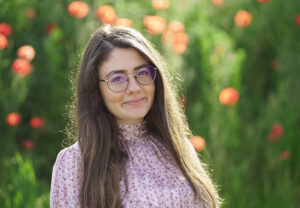 Alexandra, as a translator and technical writer, you take care of all the texts published by our business group. What exactly are your current areas of responsibility?
I have a few projects running. One of the bigger ones at the moment is an article about our digital twins, which is soon to be published in a trade journal. In addition, I'm currently writing texts for our webinars, new events as well as for our social media channels. When things aren't busy, I work on putting the finishing touches on the texts for our websites in German and English.
What do you like about your job?
That it's so versatile. I come from a humanities background and had very little to do with IT before I started working here, so I'm learning a lot. Every day there's something new, you never know what kind of text you're going to write for which target group: Marketing text, brochure, abstract, press release, case study? That makes it interesting and varied. I also really like the freedom I'm given to work independently and that I get constructive feedback.
What did you do before joining speedikon and how did you find us?
While I was writing my master's thesis, I worked in a freight forwarding company in Rhineland-Palatinate. After completing my studies, I started working at speedikon. So, this is my first "real" job that has something to do with my studies. I found the job via LinkedIn.
speedikon is located on the Bergstrasse in Bensheim. What is your connection to the region and what do you like here?
Until now, I had no connection to the region, as I previously studied in Rhineland-Palatinate and lived in Greece before that. However, I have to say that in the last 4 months that I have been here, the Bergstrasse has grown dear to my heart because of the nature, the vineyards and, above all, the people, whom I have come to know as very warm and open.