After we took a closer look at the evaluation and monitoring of data last week, in the fourth and final part of our mini-series we will turn our attention to the subsequent processes for which the obtained data can be used.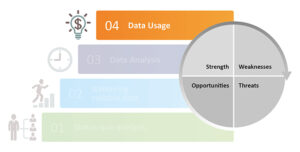 In many companies and organizations, commercial and other subsequent processes must be mapped and supported with the corresponding resource consumption data. For a large number of these processes, which are directly related to energy and resource consumption, we have developed customized solutions that precisely support the respective daily workflows of your company. By supporting your processes in this way, we help you come significantly closer to achieving your internal efficiency goals.
For example, due to the high costs for energy and resources, allocating these costs to the individual consumers is essential. In addition to the cost allocation, the resulting transparency is also an important educational factor for your team in regard to saving energy. In our WiriTec software, different options and methods are available for you to perform these cost allocations. From simple allocations based on defined allocation keys, such as area shares, to complex, multi-level billing workflows based on flexible, time-variable rule sets – our software allows you to allocate energy and resource costs in a transparent way and to the divisions according to their consumption levels.
In addition, determining the energy requirements for production processes is also a challenge that companies serious about increasing their energy efficiency must face. Only if you know what quantities of energy and resources are used for the individual production steps can you develop strategies for energy optimization. Thanks to WiriTec's innovative methods for batch management, the exact energy and resource quantities as well as open items for each individual production step can be determined for each individual batch. This means that outliers, inefficiencies or other unusual consumption levels can be identified immediately. The integration of Co2 equivalents also makes it easy to meet the emerging requirements for carbon footprint data.
Furthermore, accurate forecasts of future energy and resource requirements are imperative for companies with high energy costs. Only if you know how much energy you will need and when, can your purchases be made at more advantageous prices or your negotiating position vis-à-vis the supplier be improved. Therefore, we have developed various forecasting tools to accurately predict your future energy requirements. Depending on the application, these forecasts can be generated for any number of different time periods. For load management, for example, immediate intraday forecasts are made that predict short-term fluctuations so that corrective measures, such as load disconnections, shifts or drops, can be taken, if necessary. Using longer-term forecasts, such as days or weeks, energy purchases can be optimized and costs reduced. In addition, these forecasting methods can themselves be used for longer-term production or load planning.
To learn more about how you, too, can optimize your subsequent processes with the obtained data and thereby achieve significant cost savings, send us an email at info@wiritec.com or call us at +49 6251 58350.
We hope you found our mini-series on more energy efficiency for your business useful and look forward to hearing from you in person soon.
Did you miss the first part of our mini-series, in which we gave an overview of our 4-step plan to greater energy efficiency? Then click here.